The information below is about past and upcoming events of the Australian Consulate-General. For most updated events please refer to Australia in Vietnam Facebook page at https://www.facebook.com/AustralianEmbassyVietnam
Taste of Australia 2020 – POSTPONED
Taste of Australia is the annual celebration of Australian cuisine, culture and lifestyle throughout Vietnam. The Australian Embassy and Consulate-General in Vietnam have postponed the 2020 program due to the impact of COVID-19. We hope to advise a revised program schedule in due course.
Taste of Australia 2019 saw 20 official with 84 sponsors and partners held across Vietnam, including community BBQs, a twilight cinema event, gala receptions featuring performances by Australian singer Deni Hines, a NOSH Supperclub Dinner prepared by five leading Australian chefs working in Ho Chi Minh City, a public food and wine show, and the fourth annual Taste of Australia Culinary Competition.
Further information about the 2020 program will soon be available at the Taste of Australia Facebook page.

Australia Day – January 2020
The Australian Consulate-General hosted its fourth Australia Day community event in Ho Chi Minh City on Sunday 11 January 2019, showcasing the best Australia has to offer and celebrating Australia in Vietnam.
The event featured interactive sports and games, live entertainment and Aussie food and beverages for the whole family. Entertainment included zorb balls, tug of war and sack races, as well as a slip & slide, cricket, and soccer.
Entry was free of charge, and we were pleased to welcome over 1000 participants. A huge thankyou to all of the partners and sponsors who made the event possible, including our host RMIT Vietnam.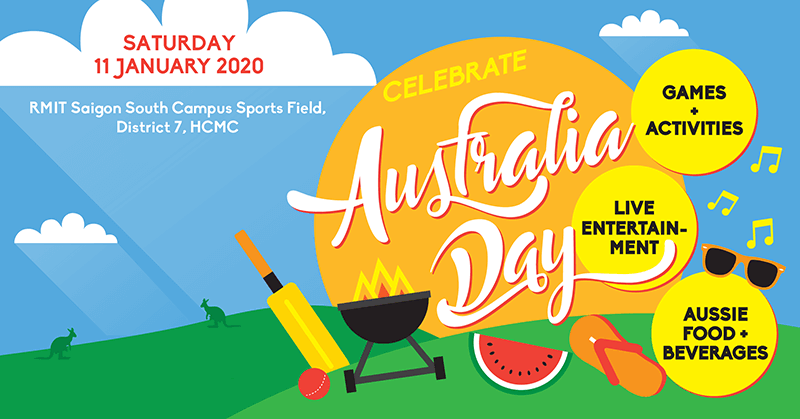 Gender Equality Conference
The Australian Consulate-General in Ho Chi Minh City, together with the Australian Chamber of Commerce in Vietnam (AusCham), will host a Gender Equality Conference on 22 October 2019 at the Caravelle Hotel from 8.30am to 4.30pm. Following the Women Conference in 2018, this event will bring together senior decision-makers from the private sector to promote women's economic empowerment and gender equality, and engage men as allies in achieving these goals. Please see media release and agenda for further details.