The information below is about past and upcoming events of the Australian Consulate-General. For most updated events please refer to Australia in Vietnam Facebook page at https://www.facebook.com/AustralianEmbassyVietnam
Australia Day Celebration in Ho Chi Minh City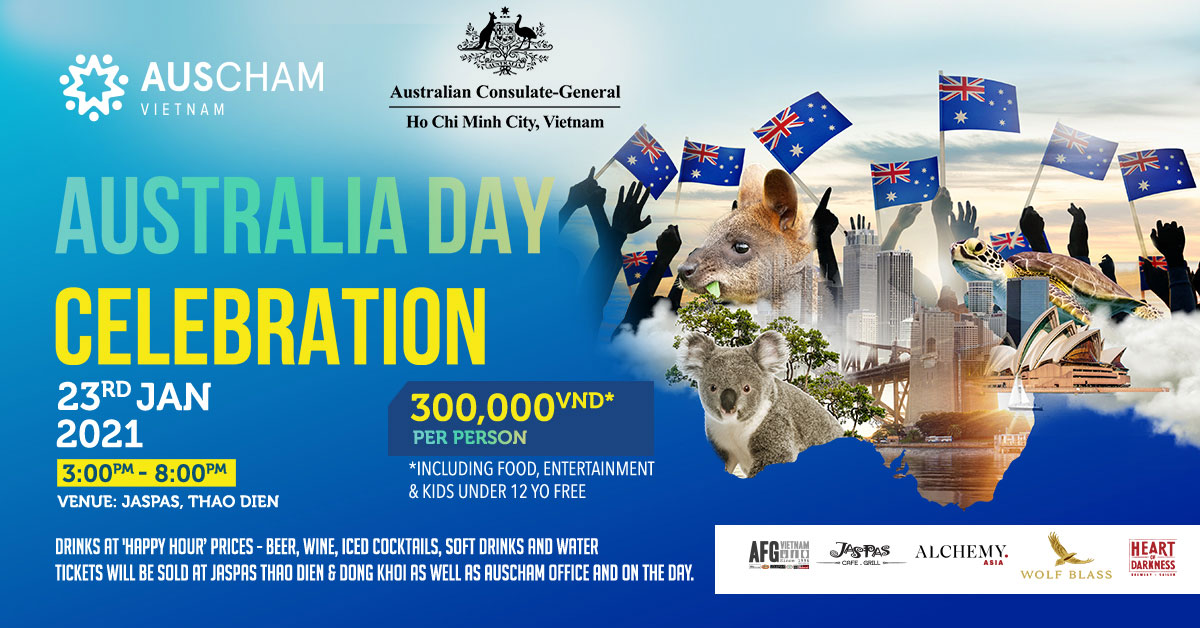 The Australian Consulate in Ho Chi Minh City, together with the Australian Chamber of Commerce in Vietnam (AusCham), hosted the Australia Day community event on Saturday 23 January.
This event took place from 3:00pm to 8:00pm at Jaspas Thao Dien - 15 Tong Huu Dinh, Thao Dien Ward, District 2, HCMC. Entry was VND300,000 per person – children under 12 years of age are free. Entry included an Australian buffet and entertainment, with drinks available for purchase.
In addition to live music, there were dedicated kids' zone featuring face painting, balloon technician, magician and play area.
Due to COVID-19, the organisers of the event limited entry to a maximum number of 300 people; entry was provided based on check-in of sold or purchased tickets. There were temperature checks and use of hand-sanitizers on arrival.
Men, Masculinities and Gender Equality in Vietnam – Online forum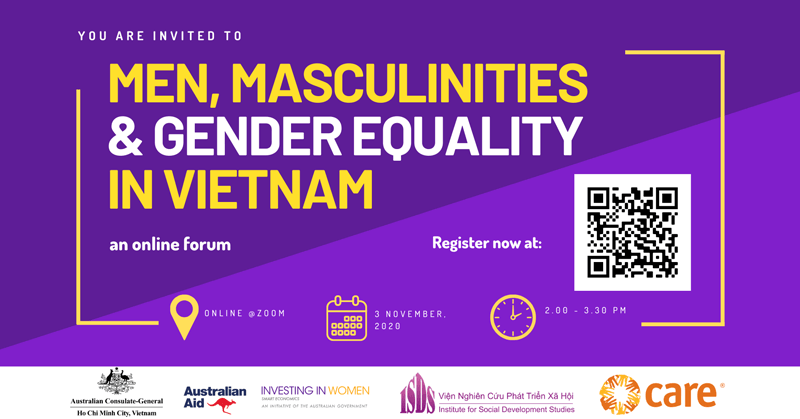 Gender equality in the workforce is crucial to reinforce Vietnam's economic dynamism and ensure its future prosperity. A new approach that targets both men and women, and addresses gendered social norms is critical to advancing gender equality in Vietnam.
In support of this new approach, the Australian Consulate-General in Ho Chi Minh City, Investing in Women (IW), the Institute of Social and Development Studies (ISDS) and CARE hosted an online forum on "Men, Masculinities and Gender Equality in Vietnam".
The forum shared notable findings from two recent studies:
An interactive panel discussion featured:
Dr. Tran Tu Van Anh, Senior Lecturer, Open University at Ho Chi Minh city
Mr Huynh Buu Quang, Chief Country Officer – Deutsche Bank Vietnam
Ms Le Thi Thanh Lam, Vice General-Director – Saigon Food
Ms Dang Phuong Anh, Chief Operating Officer – Jupivec.com
Our panellists drew on their own experiences to reflect on actions that organizations could take to overcome the barriers created by gender norms in order to ensure women's full participation in the workforce.
The event was broadcasted as a webinar via Zoom, on 3 November 2020, Tuesday, 2 – 3:30 PM (GMT+7). Simultaneous Vietnamese-English translation was provided.
Register now to save your spot! https://forms.gle/crMtWYuuzZQ5WUSq9
Or use QR code on the banner.
For more information, please contact [email protected] or [email protected]
Gender Conversations Breakfast Panel Event - 21 October 2020

To mark Vietnam Women's Day, the Australian-Consulate-General in Ho Chi Minh City and the Australian Chamber of Commerce Vietnam (AusCham) hosted "Gender Conversations 2020: inclusive practices for business success".
Gender inclusive workplace practices improve business profitability and productivity, increase business ability to retain talent, and encourage creativity and innovation.
Following on from 2019's Gender Conference, this interactive breakfast panel event explored practical initiatives that promote equal opportunity workplaces.
Panellists Huynh Buu Quang (Chief Country Officer, Deutsche Bank Vietnam), Shuyin Tang (Partner, Patamar Capital) and Trent Smith (Vice President, Platinum Global) shared their experiences of how inclusive gender practices benefit businesses across sectors and organizational levels.
Participants in the last year's Gender Conferencealso updated attendees on progress their organizations have made since October 2019. The discussion was moderated by Irene Ohler (Co-Founder, Lightpath Leadership)
Taste of Australia
Taste of Australia is the annual celebration of Australian cuisine, culture and lifestyle throughout Vietnam. The Australian Embassy and Consulate-General in Vietnam postponed the 2020 program due to the impact of COVID-19. A revised program schedule in due course.
Taste of Australia 2019 saw 20 official with 84 sponsors and partners held across Vietnam, including community BBQs, a twilight cinema event, gala receptions featuring performances by Australian singer Deni Hines, a NOSH Supperclub Dinner prepared by five leading Australian chefs working in Ho Chi Minh City, a public food and wine show, and the fourth annual Taste of Australia Culinary Competition.
Further information is available at the Taste of Australia Facebook page.

Australia Day Community BBQ
The Australian Consulate-General hosted its fourth Australia Day community event in Ho Chi Minh City on Sunday 11 January 2019, showcasing the best Australia has to offer and celebrating Australia in Vietnam.
The event featured interactive sports and games, live entertainment and Aussie food and beverages for the whole family. Entertainment included zorb balls, tug of war and sack races, as well as a slip & slide, cricket, and soccer.
Entry was free of charge, and we were pleased to welcome over 1000 participants. A huge thankyou to all of the partners and sponsors who made the event possible, including our host RMIT Vietnam.