ANZAC Day 2021
ANZAC Day is a sacred day of commemoration. It provides an opportunity to remember and reflect on the service and sacrifice of our past and current service personnel as well as honour those who have given their lives in service of our nation.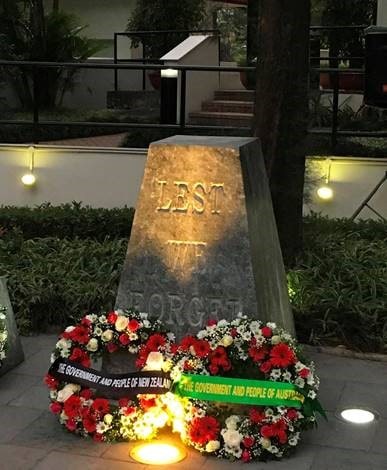 On the health advice of Australian authorities and mindful of the continuing effect of COVID on many nations, ANZAC Day services overseas will not be held as normal in 2021. This includes the Australian and New Zealand led ANZAC Day services in Turkey and the Australian services in France. In line with this approach, the Australian Embassy in Hanoi will not be holding an ANZAC Day service for members of the Australian and New Zealand communities in 2021.
While COVID-19 conditions in some countries – including Vietnam - may permit public gatherings, the Australian Government has adopted a uniform approach for all Government-led services overseas for ANZAC Day.
This decision was made on the advice of Australian health authorities and the Department of Foreign Affairs and Trade. Along with our travel ban, the Government has taken into consideration a number of factors, including concerns about the welfare of Australians and other visitors travelling to ANZAC Day services, the views of host nations regarding visitors and large gatherings and the impact on health systems of overseas nations.
The Department of Veterans' Affairs has a range of free resources available online for communities and individuals, to help plan a commemorative service in their local area or at home. Visit the ANZAC Portal for more information (anzacportal.dva.gov.au).
Notice
The Australian Consulate-General will be closed on 21 April 2021 in observance of Hung King's Commemoration Day.
The office will re-open on 22 April 2021.
For 24-hour Emergency Consular assistance, please call:
+84 28 3521 8100 and follow the prompts
or +61 2 6261 1490 (international call to Australia)
COVID-19
For Australians returning to Australia
Please visit our COVID-19 Information page for the latest updates.
For Australians in Vietnam
Australia's travel advice website, Smartraveller, contains up to date information on the COVID-19 pandemic and specific travel advice for Vietnam.
You can also subscribe on Smartraveller to receive the latest travel advice updates by email, receive SMS critical alerts for Vietnam or receive a daily email with updates from the previous 24 hours.
The Australian Ambassador in Vietnam, HE Robyn Mudie, is sharing regular messages on our social media channels. You can view the latest videos on Facebook and Twitter. Don't forget to follow us for the latest updates.

Passport and notarial appointment bookings
Passport and notarial appointments are available from 09:00 to 12:00, Monday to Friday, excluding public holidays.
Passport and notarial services are by appointment only.
Please ensure you have all necessary supporting documents with you before you attend your appointment at the Consulate.

Clients without an appointment will only be seen in exceptional circumstances.

For further enquiries, please contact us at

[email protected]

(passport services) or at

[email protected]

(notarial services) and provide us with a contact number.

For Australians needing consular assistance
For consular assistance in Vietnam:
For urgent consular assistance outside of business hours, the Consular Emergency Centre (CEC) in Canberra provides 24-hour support for Australians with serious and urgent needs. It is also for the friends and family of Australians overseas.
For urgent consular assistance, contact the CEC on:

Visas and Migration
Novel coronavirus and Australian visas
The Australian government has announced measures to ensure the health, safety and well-being of the Australian community, including implementing travel restrictions. Visa applicants and travellers should view the latest information available on the Department of Home Affairs website.
We strongly encourage you to apply online for any visas to Australia.
Did you know, online visa applications are assessed several weeks faster than a paper application?
More information about Visa and Migration for clients in Vietnam.
Attention All Visitors To The Australian Consulate-General
Please note:
Airport style security screening is in place at the Australian Consulate-General.
As a condition of entry to the Consulate, visitors will be asked to leave all sharp or dangerous objects, cigarette lighters, oils and liquids with the guards for collection when departing the Consulate.