Passport and notarial appointment bookings
Notarial appointments are open from 09:00 to 12:00, Monday to Friday, excluding public holidays.The Passport and Notarial counters are open from 09:00 to 13:00, Monday to Friday, excluding public holidays. Passport and Notarial services are by appointment only.
Please ensure you have all necessary supporting documents with you before you attend your appointment at the Consulate.

Clients without an appointment will only be seen in exceptional circumstances.

For further enquiries, please contact us at

[email protected]

(Passport services) or at

[email protected]

(Notarial services) and provide us with a contact number.
Notarial and Passport Services in Da Nang
The Australian Consulate-General in Ho Chi Minh City is planning to visit Da Nang to offer limited notarial and passport services in late November/early December. If you are interested, please email [email protected] with your name, phone number and the type of service you are seeking. Please note the visit will only be run subject to sufficient demand.
A Message From The Australian Ambassador To Vietnam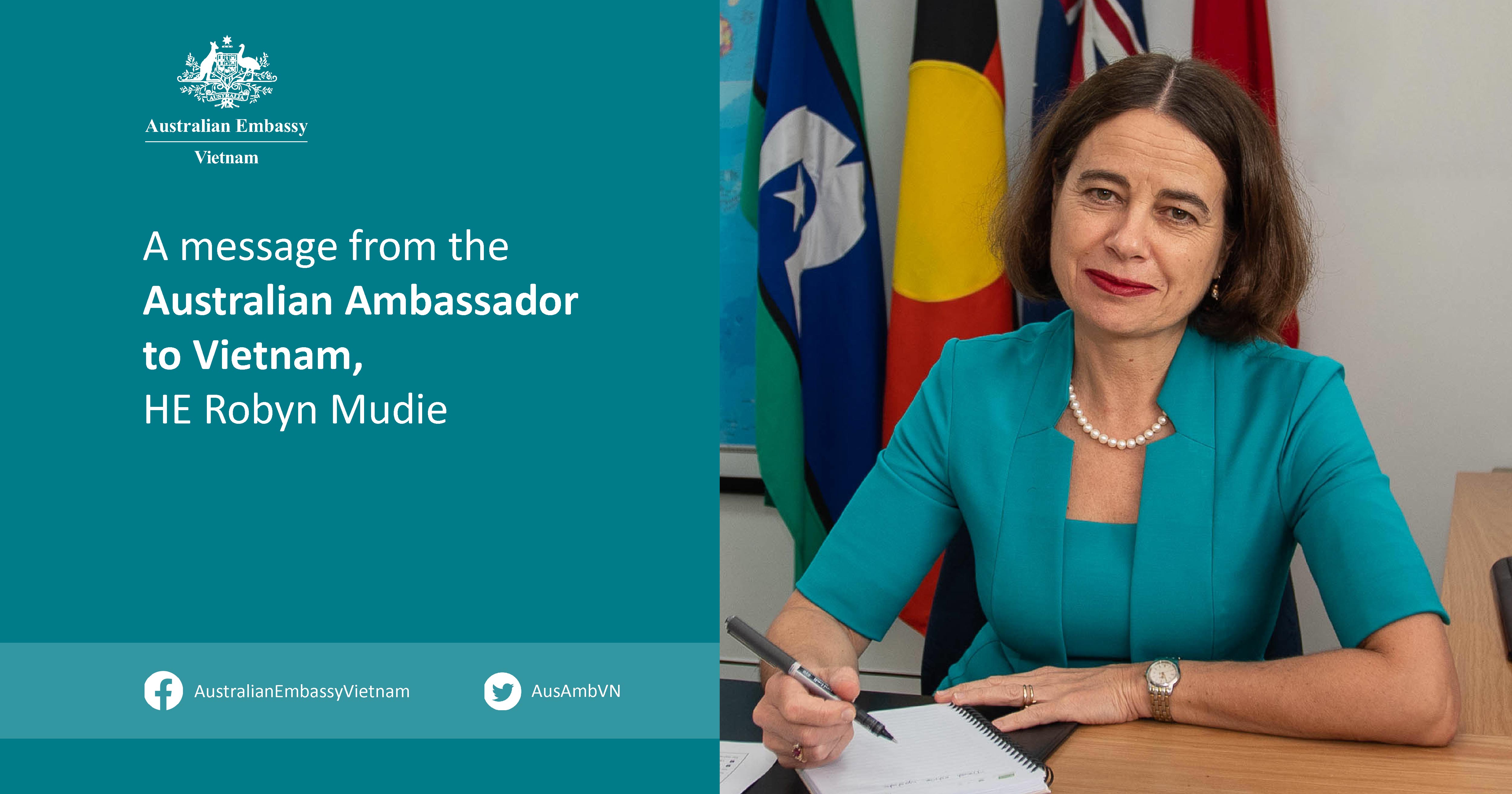 The Australian Ambassador in Vietnam, HE Robyn Mudie, is sharing regular messages on our social media channels. You can view the latest videos on Facebook and Twitter. Don't forget to follow us and visit Smartraveller for the latest updates.
For Australians returning to Australia
Flights to Australia
Last updated 12 October 2020
Vietnam Airlines
Vietnam Airlines will operate two passenger flights on 18, 22 October from Ho Chi Minh City to Sydney.
| | | |
| --- | --- | --- |
| Date | Sunday 18 October | Thursday 22 October |
| Route | Ho Chi Minh City (SGN) - Sydney (SYD) | Ho Chi Minh City (SGN) - Sydney (SYD) |
| Flight Number | VN773 | VN773 |
| Departure time | 21:50 | 21:45 |
| Arrival time | 10:15 (+1) | 10:15 (+1) |
Tickets are only available for purchase by attending a Vietnam Airlines office in person or by phone. They are not available for purchase online. There is no requirement for passengers to pre-register their details with the Embassy or Consulate to purchase these tickets.
Singapore Airlines
From 8 August, Singapore Airlines has reopened transit in Singapore for passengers flying from Vietnam (Hanoi and Ho Chi Minh City) to Australia (Sydney, Brisbane, Perth and Adelaide).
Passengers should read the conditions for transiting in Singapore carefully. Singapore Airlines flight schedules for October – December are available online. Ticket availability is subject to the caps on international arrivals into Australia.
Flight Caps
Last updated 12 October 2020
As of 13 July 2020, national caps on international arrivals into Australia have been implemented to manage and maintain quarantine arrangements. These arrangements will be in place until 24 October.
Melbourne – no international passenger arrivals
Sydney – no more than 2950 passenger arrivals per week
Perth – no more than 1025 passenger arrivals per week
Brisbane – no more than 1000 passenger arrivals per week
Adelaide – no more than 600 passenger arrivals per week
Hobart - no international flights
Canberra, Darwin - passenger limits to be discussed with jurisidictions on a case-by-case basis.
If you have been affected, please contact your airline directly for information on any changes to your flight.
Read more about the changes on Smartraveller and the Prime Minister's media statement.
Entry into Australia
Only Australian citizens, permanent residents and immediate family members can travel to Australia.
Anyone who is not an Australian citizen, Australian permanent resident or immediate family member of an Australian citizen will need to apply for and be granted an exemption to enter Australia. Without a granted exemption, you will be denied boarding at the airport
More information from the Department of Home Affairs: Coming to Australia
Quarantine in Australia
All travellers arriving in Australia must undergo a mandatory 14-day quarantine in their city of arrival, regardless of their final destination.
This will be organised by the Australian Border Force and the relevant state and territory Government on your arrival.
After you have completed your 14-day quarantine you will be free to travel onto your final destination.
States and territories have introduced their own arrangements and costs. Visit your state or territory website for more information on quarantine costs and arrangements.
Registration
If you are an Australian citizen or Permanent Resident in Vietnam who wishes to return to Australia but have been unable to do so, you can register with the Australian Consulate-General.
To register please visit here and complete details of each traveller. When prompted, please provide your address in Vietnam and not Australia.
For Australians needing consular assistance
If you need consular assistance please contact us at (+84 28) 3521 8100 or [email protected].
If you need emergency consular assistance outside of normal business hours, the Department of Foreign Affairs and Trade Consular Emergency Centre (CEC) in Canberra is there to help 24 hours a day, 7 days a week on +61 2 6261 3305 (international call charges apply).
The CEC is also an advisory line for concerned family members in Australia and can be called on 1300 555 135 (for the cost of a local call within Australia).
For Australians travelling in Vietnam
Australia's travel advice website, Smartraveller, contains up to date information on the novel coronavirus outbreak and its impact on travel to Vietnam. Help us help you be prepared and informed by subscribing by email or to the new SMS service to receive critical alerts.
Visas and Migration
Novel coronavirus and Australian visas
The Australian government has announced measures to ensure the health, safety and well-being of the Australian community, including implementing travel restrictions. Visa applicants and travellers should view the latest information available on the Department of Home Affairs website.
We strongly encourage you to apply online for any visas to Australia.
Did you know, online visa applications are assessed several weeks faster than a paper application?
More information about Visa and Migration for clients in Vietnam.
Attention All Visitors To The Australian Consulate-General
Please note:
Airport style security screening is in place at the Australian Consulate-General.
As a condition of entry to the Consulate, visitors will be asked to leave all sharp or dangerous objects, cigarette lighters, oils and liquids with the guards for collection when departing the Consulate.