Latest News
CANCELLATION OF ANZAC DAY 2020 SERVICE IN HO CHI MINH CITY
MESSAGE FROM AUSTRALIAN AND NEW ZEALAND CONSULS-GENERAL IN HO CHI MINH CITY
We regret to advise that in line with Australian, New Zealand and Vietnamese Government policies and social distancing guidance, the ANZAC Day dawn service in Ho Chi Minh City will not take place on Saturday 25 April 2020.
This decision has not been made lightly, and has taken into consideration a number of key factors, primarily concerns about the welfare of all visitors who would travel to the Anzac Day services, as well as the view of our host nation regarding large gatherings, the safety of guests, the impact on health systems and the welfare of staff, contractors and security.
The ABC will broadcast and live-stream a private commemorative service from the Australian War Memorial on 25 April from 5.30am AEST (2.30am ICT). New Zealand will similarly be broadcasting an act of remembrance on behalf of the people of New Zealand at the National War Memorial.
We would also like to acknowledge the support we have had over a number of years from the United Kingdom Consulate-General in Ho Chi Minh City in the hosting of the ANZAC Day dawn service.
Our thoughts are with all of our Vietnam based Australian and New Zealand communities in these challenging and unprecedented times.
Ms Julianne Cowley, Australian Consul-General in Ho Chi Minh City and Ms Karlene Davis, New Zealand Consul-General in Ho Chi Minh City
A Message From The Australian Ambassador To Vietnam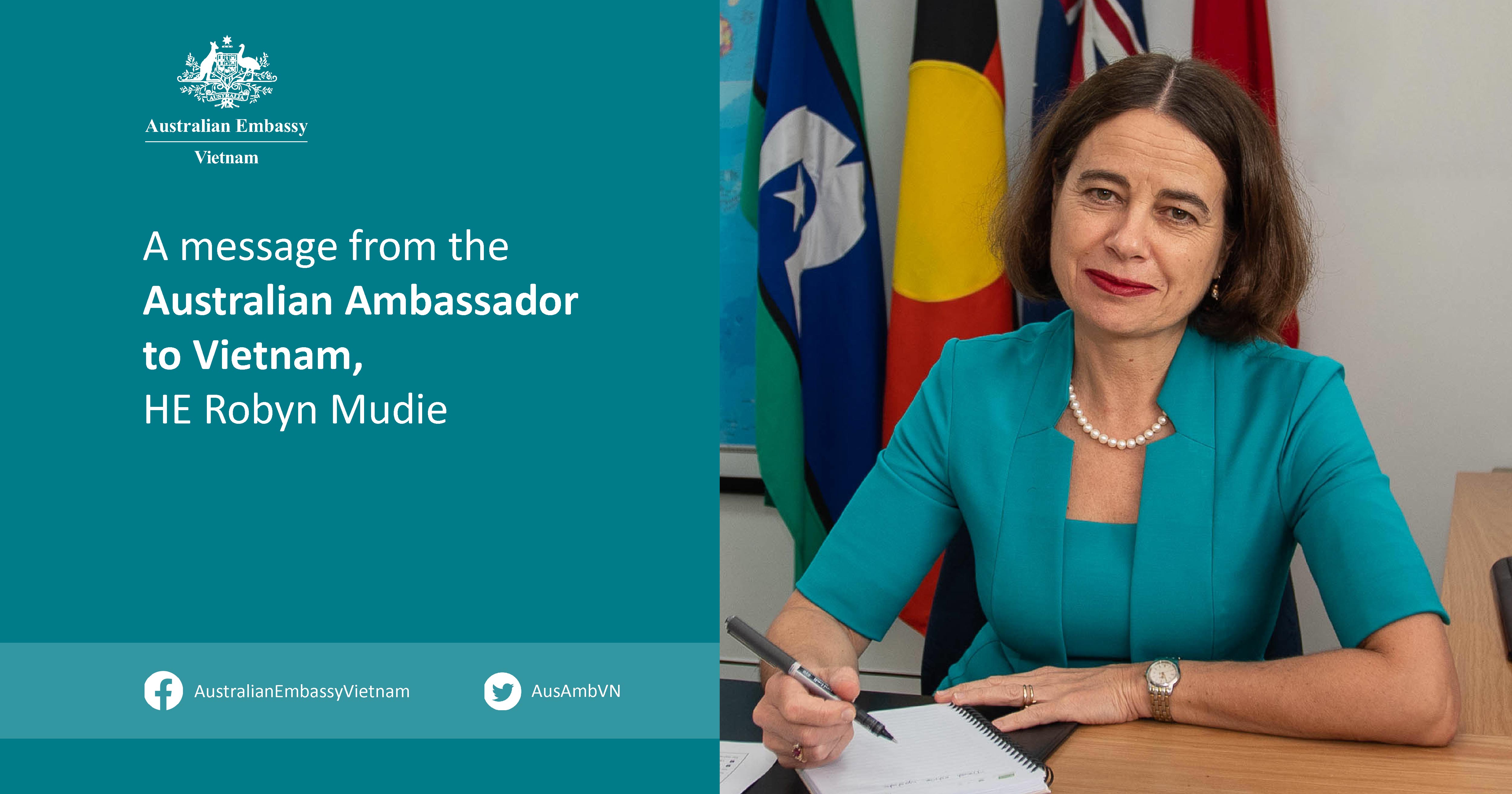 The Australian Ambassador in Vietnam, HE Robyn Mudie, is sharing regular messages on our social media channels. You can view the latest videos here and read here. Don't forget to follow us on Facebook and Twitter for the latest updates.
Public Holiday Closure
The Australian Consulate-General will be closed on 10 April in observance of Good Friday.
For 24-hour Emergency Consular assistance, please call +84 28 35218100 and follow the prompts or +61 2 6261 3305 ( International call to Australia).
For Australians travelling in Vietnam
Australia's travel advice website, Smartraveller, contains up to date information on the novel coronavirus outbreak and its impact on travel to Vietnam. Help us help you be prepared and informed by subscribing by email or to the new SMS service to receive critical alerts.
For Australians returning to Australia
Please visit the Australian Government's Department of Home Affairs website for the latest advice in relation to travelling to Australia.
For information on how best to protect yourself, your family and your community
Please visit the Australian Government's Department of Health: www.health.gov.au/
For Australians needing consular assistance
If you need consular assistance please contact us at (+84 28) 3521 8100 or consular.HoChiMinh@dfat.gov.au.
If you need emergency consular assistance outside of normal business hours, the Department of Foreign Affairs and Trade Consular Emergency Centre (CEC) in Canberra is there to help 24 hours a day, 7 days a week. Contact the CEC by calling the Embassy switchboard (+84 24) 3774 0100 and follow the prompts for emergency consular assistance. Alternatively, contact the CEC directly by dialling +61 2 6261 3305 (international call charges apply). The CEC is also an advisory line for concerned family members in Australia and can be called on 1300 555 135 (for the cost of a local call within Australia).
Additional health measures at Vincom Center, District 1 HCMC
The Australian Consulate-General is located at Vincom Center, District 1 HCMC. Vincom Center management have advised the Australian Consulate-General that from 16 March 2020 until further notice, the following health measures will take place
Face masks are compulsory in all lifts and public spaces in the building
Avoid talking or making phone calls in the lifts
Body temperatures will be checked at all entrances
If you require assistance from the Australian Consulate-General and are unable to access the building for any reason, please Contact Us.
Notarial services currently suspended
Due to the large volume of calls the Australian Consulate-General is currently receiving, notarial appointments are currently suspended. If you require a time sensitive notarial service please contact us to explain the situation, however we cannot guarantee that we will be able to provide the services at this time.
Passport Appointment Bookings
Passport appointments for urgent matters remain open from 09:00 to 13:00, Monday to Friday, excluding public holidays. Passport services are by appointment only.
Please ensure you have all necessary supporting documents with you before you attend your appointment at the Consulate.
Clients without an appointment will only be seen in exceptional circumstances. For further enquiries, please contact us at hchi.passports@dfat.gov.au (Passport services) or at consularhcmc@dfat.gov.au (Notarial services) and provide us with a contact number (if possible).
Visas and Migration
Novel coronavirus and Australian visas
The Australian government has announced measures to ensure the health, safety and well-being of the Australian community, including implementing travel restrictions. Visa applicants and travellers should view the latest information available on the Department of Home Affairs website.
If you are applying for an Australian visa, we strongly encourage you now to do this online - more details here.
Did you know, online visa applications are assessed several weeks faster than a paper application?
For detailed Visa and Migration information for clients in Vietnam, please click here.
Attention All Visitors To The Australian Consulate-General
Please note:
Airport style security screening is in place at the Australian Consulate-General.
As a condition of entry to the Consulate, visitors will be asked to turn off their mobile phones, and leave all cameras, computers, recording devices, other electronic equipment, sharp or dangerous objects, cigarette lighters, oils and liquids with the guards for collection when departing the Consulate.